>
Thermite can't transform the steel in dust:
Above image - original caption: "Figure 36. Steel columns disintegrate into steel dust with WTC7 and water tower in the foreground. ".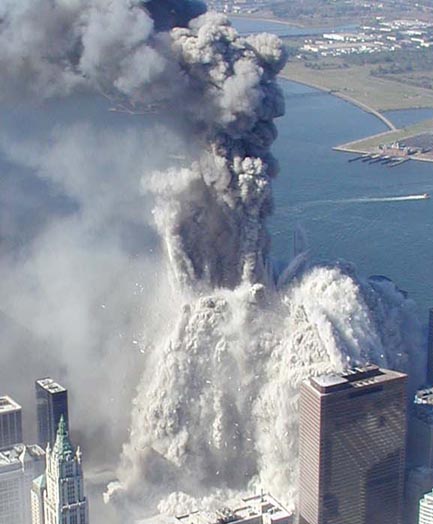 Above image - original caption: "Figure 13.

The building turns to powder

. Material is being launched upward and outward. The whitish material arcs over and begins to fall downward while the southern portion (away from the camera) appears to shoot straight up."
Images and captions from the article: "

A Refutation of the Official Collapse Theory
The Billiard Ball Example (BBE)", at the URL: http://drjudywood.com/articles/BBE/BilliardBalls.html
Remember that it is important to know how it was possible to transform 2 X 500,000 tons of buildings in dust. It is important not only to demonstrate the use of "Star Wars" weapons/technology, it is important to demonstrate that the "9-11 truth movement" and especially his political, ideological and religious

instances

are controlled by the same mastermind of 9-11.
To allude to the use of "Star Wars" beam weapons in the film "War of the Worlds", it seems to be a preventive mockery of the ones who doesn't buy the "Thermite theory" or the "Nuclear controlled demolition" theory, therefore of the ones who could have doubt about the sincerity of the same "9-11 truth movement":
Tuesday, April 30, 2013

An allusion to 9-11 truth?