>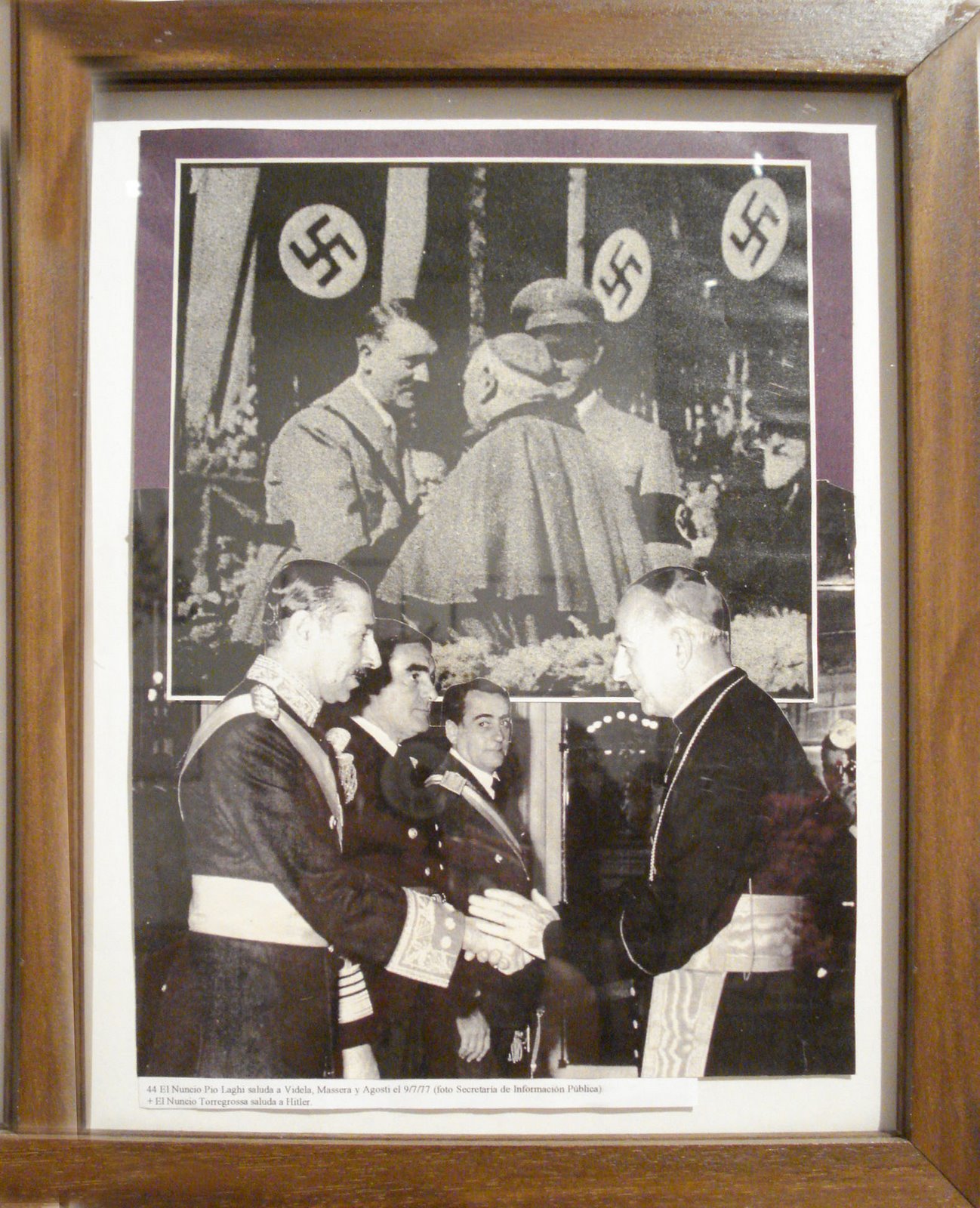 "....

Actually, if I did believe there was a secret Jesuit conspiracy, I would say that Alberto Rivera is still a part of it. His ludicrous accusations have damaged the cause of legitimate Protestant/Catholic relations...."
by
[http://socrates58.blogspot.it/2007/03/jack-chicks-lies-real-alberto-rivera.html]
".....for there is nothing covered, that shall not be revealed;....".
I too can confirm Alberto Rivera. Years ago people told me about corpses of children found near a monastery in Koper/Capodistria. It was a colleague with whom I worked in the cemetery years ago, a person absolutely not involved in this matter [conspiracy research

es

, Vatican, etc.]. Another person told me of an identical fact in the city of Gorizia/Gorica, he too a person who is totally not interested in conspiracy. Exactly as exposed by Alberto Romero Rivera. But I have some suspects as things could have been set up. You exposed the church of Rome, but some people to whom you told the facts are often contacted in a discrete way by the Romish environment. They tell him/her the "truth", not before having warned the person discretely contacted to "don't say a word about". So for every statement you do about the church of Rome, the 'friends' of the person to whom you told the facts are preparing a counter-exposition, of which of course you don't know anything and you cannot give a reply to it. I noted it with the environment of the job, where people with a deep connections with politicians and other elements of the elite, then start to take the distance from you. I bet what do you want that after being in contact with me someone give 'em the "truth" about me.
Of course the discussion about the church of Rome never appears in public as they fear to see their argument destroyed. I don't have a doubt that Alberto Romero Rivera has been murdered, especially for his statement about Islam and the Catholic origin of it, and this only four years before 9-11, a dirty war attack whose theatrical inspiration was to frame the Jews and their American allies as "plotting evil entities in order to calumniate the 'poor' innocent Islamic world":
".......

In Jewish and Christian tradition, Abraham is told by God to sacrifice his son Isaac (ʾIsḥāq) and at the last minute is stopped, at which point a ram is provided to sacrifice instead. In Islamic tradition, it is typically believed that Abraham is told to sacrifice his son

Ishmael

, not Isaac, though the Quran does not actually state which son........".
URL: http://en.wikipedia.org/wiki/Ishmael_in_Islam#The_sacrifice
Tell me if it is not true that only an anti-Jewish mind
[and anti-Christian, as Jesus Christ came to "fulfill the law, not to destroy it"]
could have engineered such refined manipulation of the Ancient Testament. Notice the relativism - Jesuitical one - of this piece from Wikipedia, as the tradition related to Abrahm was something 'neutral', fallen from the sky from a flying UFO, and not a consolidated and very rigorous Jewish tradition, respect which any distortion betrays the secret goal behind it. Also here Alberto was right, the simple analysis of the historial context of his revelations confirms him.
"....

In the company of

Armando

I was

stuck

in the

basement

archives

of the Catholic University

of

San

Salvador

, where a young

and distracted

responsible

had listened to

my request

to learn

more about

El

Mozote

and

without moving

a

step away from the

fan

that

I only had

cooled

given

a room

right

down the hall

, muttering

"there

are

piles of

papers left by

a former

professor who

does not

know

where it went.

No one has

ever

touched

. "

We are

in a small

two meters by

four, with a

bare

metal desk

, two chairs

and six

stacks of

gray

boxes

that were really

blacks but

the layer of

dust

that covers them

has changed color.

Hands

quickly become

coals,

a suffucating

heat,

dozens

of packets

of paper hankyes

used to

be able to

handle the paper

without

to dirt the hands,

water

so much

.

But

the opening

of the fourth

box

comes the

surprise.

After

having viewed

articles and

other stuff

of no interest

, I find myself

in his hands

something familiar:

the

photocopied

sheet

with the classic

wide stripes

black

erase

reserved names

, stamped

"Classified"

and the signature

of the responsible official

,

with

"fm

Embassy

to

SECSTATE

in

Washington

DC ",

or even"

Confidential,

Copy

Action

Telegram,

Top

Secret, "short

U.S. government

documents

taken

directly from the archives

of the Services

at

the U.S. Embassy

in

El Salvador and

that

the professor

had come into

possession

somehow

......".

URL: http://paolobarnard.info/intervento_mostra_go.php?id=553

and: http://www.comedonchisciotte.org/site/modules.php?name=News&file=article&sid=11411
"Misteriously documents" which appears in such theatrical way are a bit suspicious. But if you consider that someone could have been deliberately released them in order to be viewed by anyone, things come clear...
Evidently if Roman Catholicism must destroy American Protestants and liberal Catholics, it has to do it with a well planned scheme, with a long time at disposition. Babylon can wait to grasp the prey.
Above image - "

Avery Robert Dulles S.J. (August 24, 1918 – December 12, 2008) was a Jesuit priest, theologian, cardinal of the Catholic Church and served as the Laurence J. McGinley Professor of Religion and Society at Fordham University from 1988 to 2008.[1] He was an internationally known author and lecturer.Dulles was born in Auburn, New York, the son of John Foster Dulles, the future U.S. Secretary of State (for whom Washington Dulles International Airport is named), and Janet Pomeroy Avery Dulles. His uncle was Director of Central Intelligence Allen Welsh Dulles. Both his great-grandfather John W. Foster and great-uncle Robert Lansing also served as U.S. Secretary of State." - URL: http://en.wikipedia.org/wiki/Avery_Dulles
Above image - "...

Óscar Arnulfo Romero y Galdámez (15 August 1917 – 24 March 1980)[1] was a bishop of the Catholic Church in El Salvador. He became the fourth Archbishop of San Salvador, succeeding Luis Chávez. He was assassinated on 24 March 1980...." - URL: http://en.wikipedia.org/wiki/%C3%93scar_Romero
".....It is widely believed that the assassins were members of a death squad led by former Major Roberto D'Aubuisson. This view was supported by ex-US ambassador Robert White, who in 1986 reported to the United States Congress that "there was sufficient evidence" to convict D'Aubuisson of planning and ordering Archbishop Romero's assassination.[15]


....." [URL: idem]
".......




According to Brockman, Romero's spiritual journey had some of these characteristics:




love for the Church of Rome, shown by his episcopal motto, "to be of one mind with the Church," a phrase he took from St. Ignatius' Spiritual Exercises

;

a tendency to make a very deep examination of conscience;
an emphasis on sincere piety;
mortification and penance through his duties;

providing protection for his chastity;

spiritual direction (Romero said he "entrusted with great satisfaction the spiritual direction of my life and that of other priests" to priests of Opus Dei);

"being one with the Church incarnated in this people which stands in need of liberation";

eagerness for contemplative prayer and finding God in others;

fidelity to the will of God;

self-offering to Jesus Christ.

......."




[URL: idem]
"......Outside of Catholicism, Romero is honored by other religious denominations of Christendom, including the Church of England through the Calendar in Common Worship. He is one of the ten 20th-century martyrs who are depicted in statues above the Great West Door of Westminster Abbey in London, a testament to the wide respect for him even beyond the Catholic Church.[2] In 2008, he was chosen as one of the 15 Champions of World Democracy by the Europe-based magazine A Different View.[3]......" [URL: idem]
This is an important point. According to former Jesuit priest Alberto Romero Rivera, the public relation involving archbishop Romero before his death [honored by other religious denominations] recalls the strategy used with Jim Jones who was involved in an operation of public relation where he was put in contact with high personalities. Let's see what Alberto has to say [page 31 of Double-Cross volume of Alberto series]:
"......Isn't it strange that an unimportant leader of a small church would attract top figures from the political and religious worlds like....Mrs Rosalyn Carter.....Governor Jerry Brown (Jesuit trained)......Mayor Moscone of San Francisco, as well as state senators, assemblymen and attorney-generals. He was endorsed by several religious leaders......I believe all of this was part of the set-up for the massacre to receive world wide coverage. .... When it was over the world was in shock."
Surely Alberto was shocked too by the assassination of a Roman Catholic archbishop linked with the Jesuit order too and carrying his the same surname: Romero. Alberto doesn't tell this in Double-Cross, but you can be 200% sure that he understood that the assassination of archbishop Romero was a job aimed also to assassinate the name and the credibility of the other Romero, Alberto Rivera, where the revelations about the Jesuit order of the latter would have been deprived of legitimacy when put in comparison with a cruel and true death of an exponent of the same church blamed by Alberto.
The copyright of Double-Cross carry the year 1981, therefore the year after the assassination, but the first volume of the series has the copyright of the year before the assassination, the 1979. In any case Alberto Rivera leaved the church of Rome many years before and was already on the foresight of the Vatican and Jesuit order.
[If you want an evidence, you can switch between both pages referred to the two Romeros, the one dedicated to the archbishop assassinated by death squads is a triumph, the one dedicated to Alberto Rivera practically destroys his image. Once I gave five Euros via PayPal to Wikipedia, hardly I'll give 'em again even a cent].
Let's go back to Salvador, precisely the American ambassador Robert White:
".....He [Robert White] was dismissed by the new Reagan administration in 1981. He claims that Secretary of State, Alexander Haig, pushed for his removal because he did not favour a military solution to the Salvadoran situation......"
[URL: http://en.wikipedia.org/wiki/Robert_White_%28ambassador%29]
Alexander Haig was a member of the Roman Catholic

s

overeign military order of Malta. Alexander Haig was a crusader of the pope

[see References].
CIA - Central Intelligence Agency [but for the friends: Catholics In Action] if would have some chances to survive in a world dominated by SIS and KGB, had to sell her soul to Satan, namely the most powerful world Intelligence Agency: the Jesuit Order. To gain so much privileges all around the world also it implied some 'favors' the CIA did to the Jesuits, as for example to support the Salvador death squads who did the mass cut-throating of children and the contemporary murder of some members of the Jesuit order. Were those Jesuits and the archbishop Romero also considered by the 'honored' society as the "right price" to pay in order to acquire the global wide

respectability

due to the "victims of ugly tyrannies"??
Roman Catholic church 'involvement' in torture and assassination in Latin America:
Thursday, January 03, 2013






Jesuit-Nazi thread among France, Argentina and Slovenia
---------------------REFERENCES:
Friday, 29 August 2008
Alexander Haig, Jr.
General Alexander Meigs Haig, Jr. - US Secretary of State; White House Chief of Staff; Vice Chief of Staff of the Army; Supreme Allied Commander Europe (SACEUR); Supreme Allied Commander of NATO
Quote
Alexander Meigs Haig, Jr. (born December 2, 1924) is a retired four-star general in the United States Army who served as the U.S. Secretary of State under President Ronald Reagan and White House Chief of Staff under Presidents Richard Nixon and Gerald Ford.[1] In 1973 Haig served as Vice Chief of Staff of the Army, the number two ranking officer in the Army.[2] From 1974-79, Haig served as the Supreme Allied Commander Europe (SACEUR), the ex officio commander of the all U.S. and NATO forces in Europe. Haig is a veteran of the Korean and Vietnam Wars and is a recipient of the Distinguished Service Cross, the Army's second highest medal for heroism, as well as the Silver Star with Oak Leaf Cluster and the Purple Heart.[3]

Education

Haig attended St. Joseph's Preparatory School in Philadelphia and graduated from Lower Merion High School in Ardmore, Pennsylvania. He then went to the University of Notre Dame for one year before transferring to and graduating from West Point in 1947. He studied business administration at Columbia Business School in 1954 and 1955. He also received a Masters degree in International Relations from Georgetown University in 1961 where his thesis focused on the role of the military officer in the making of national policy.
[...]

Current activities

Haig was the host for several years of the television program World Business Review and now hosts 21st Century Business, each program a weekly business education forum that includes business solutions, expert interview, commentary and field reports.[citation needed]

Haig is co-chairman of the American Committee for Peace in the Caucasus, along with Zbigniew Brzezinski and Stephen J. Solarz.

Haig is a member of the Washington Institute for Near East Policy (WINEP) Board of Advisors.

Haig was a founding Board Member of America Online.[citation needed]

On January 5, 2006, Haig participated in a meeting at the White House of former Secretaries of Defense and State to discuss United States foreign policy with Bush administration officials.[citation needed]

On May 12, 2006, Haig participated in a second White House meeting with 10 former Secretaries of State and Defense. The meeting including briefings by Donald Rumsfeld and Condoleezza Rice, and was followed by a discussion with President George W. Bush.[16]

Haig published his memoirs, entitled Inner Circles: How America Changed The World, in 1992.

Alexander Haig is the father of author Brian Haig.[citation needed]



He is a Knight of Malta.

[citation needed]
http://en.wikipedia.org/wiki/Alexander_Haig
http://en.wikipedia.org/wiki/Category:Knights_of_Malta
Quote
Alexander Haig gave them, the Israelis, those anti-tank missiles, and got them in their hands before the Egyptians got into Israel and disabled them.

That was Alexander Haig, Knight of Malta

, for which reason he was also the Supreme Allied Commander for NATO, promoted over 260 of his peers. The Black Pope: Interview of Eric Jon Phelps
http://www.whale.to/b/israel.html
Quote
Honegger points to Alexander Haig, later to become the Secretary of State under Ronald Reagan, as having been made an "honorary" (non-Italian) member of P-2 prior to 1980. Honegger further states that Licio Gelli, finance wizard Michele Sindona,

Alexander Haig

, and CIA Director William Casey

"were also reportedly members of the Vatican's military order, the Knights of Malta, whose initiates must take an oath of allegiance to the Pope."

Furthermore, P-2 is linked to the Mafia, which also seems to have played a part in the October Surprise plot; writes Honegger: "A number of press reports, taken together, suggest that there may have been a P-2 and Gambino Mafia connection to the release of the fifty-two American hostages from the U.S. embassy in Tehran."
http://www.rumormillnews.com/cgi-bin/archive.cgi?read=912
Quote
The Knight of Malta and former US Secretary of State and Supreme Allied Commander of NATO Alexander Haig,

has spoken at Moonie events.
http://www.bibliotecapleyades.net/biggestse...reebook/truthfree15.htm
Quote
Alexander Haig -- A long-time protege of the Pentagon "Iron Mentor" Fritz Kraemer, [101] Haig extended favors and NATO links to the fascist cell in Italy known as P-2 or Propaganda Due, whose "puppetmaster," Licio Gelli, worked with Franco and Mussolini and shares dual citizenship in Italy and Argentina.[102] The involvement of high government officials in this secret order of Free-Masons scandalized and rocked the whole Italian government, and opened the ensuing scandal of Banco Ambrosiano and the Vatican Bank's missing billions.[103] Many of the key figures are either imprisoned (Licio Gelli and Michele Sindona, former head of the Vatican Bank) or dead (Roberto Calvi, known as "God's Banker," found hanging beneath Blackfriar's Bridge in London.) [104]

Haig has just been knighted into the secretive Knights of Malta

, which includes his brother, and prestigious members like William Colby (CIA), William F. Buckley (CIA), J. Peter Grace, John McCone (CIA), General Vernon Walters (Reagan's "roving ambassador"), James Angleton (CIA), and others.[105]
http://www.ratical.org/ratville/JFK/JohnJudge/GoodAmericans.html
Quote
Haig, Alexander M. Jr. CFR, TC, BGC,

SMOM

, BWC
• chairman, Worldwide Associates, Inc.
• Secretary of State (1981-82)
• former NATO commander
http://www.learn-usa.com/relevant_to_et/Sec...and_Undue_Influence.pdf
SMOM member by mention:
http://www.theseventhtrumpet.org/cards2.php
http://www.nndb.com/people/989/000022923/
http://www.pehi.eu/organisations/introducti..._Alexander_Haig_bio.htm
http://www.biblebelievers.org.au/kmlst1.htm
http://www.cephas-library.com/nwo_corp_knights.html
http://www.theconspiracy.us/vol10/cn10-94.html
http://www.elfis.net/rnr/rnr9/smizps.htm
http://www.illuminati-news.com/prieure-of-sion.htm
http://www.oss.net/dynamaster/file_archive/...20Epilogue~1Jan2005.pdf
http://www.nexusmagazine.com/articles/smokemirrors.html
http://www.philippinefolio.com/contdetail.p..._app2=349&id_app3=01612
http://www.voxfux.com/features/knights_of_malta_facts.html
Social Network Diagram:
http://www.namebase.org/cgi-bin/nb06?_HAIG_ALEXANDER_M%20JR

Sources:
Quote
HAIG ALEXANDER M JR
Cuba 1963 Vietnam 1966-1967 Chile 1970 South Africa 1977-1981 Libya 1981
China 1993-1997

* Anderson,J. Peace, War, and Politics. 1999 (411-2)
* Andrew,J. Power to Destroy. 2002 (170)
* Atlantic Monthly 1982-12 (54)
* Beaty,J. Gwynne,S.C. The Outlaw Bank. 1993 (360)
* Bellant,R. Old Nazis. 1989 (64-5)
* Bernstein,R. Munro,R. The Coming Conflict With China. 1997 (115, 120-3)
* Bill,J. The Eagle and the Lion. 1988 (260)
* Blum,W. Killing Hope. 1995 (349)
* Bonner,R. Waltzing With a Dictator. 1987 (295)
* Bonner,R. Weakness and Deceit. 1984 (75-6)
* Bradlee,B. A Good Life. 1995 (360, 364-5)
* Branch,T. Propper,E. Labyrinth. 1983 (61-3, 605)
* Brownstein,R. Easton,N. Reagan's Ruling Class. 1983 (539-46)
* Cockburn,A. Silverstein,K. Washington Babylon. 1996 (145)
* Cockburn,A.& L. Dangerous Liaison. 1991 (218, 322, 324, 328, 332)
* Colby,G. Dennett,C. Thy Will Be Done. 1995 (790)
* Colodny,L. Gettlin,R. Silent Coup. 1992
* Constantine,A. Psychic Dictatorship in the U.S.A. 1995 (36)
* Council on Foreign Relations. Membership Roster. 2004
* CounterSpy 1981-04 (7)
* Covert Action Information Bulletin 1981-#13 (8, 10, 14)
* Covert Action Information Bulletin 1982-#17 (9-10)
* Covert Action Quarterly 1993-#43 (38)
* Covert Action Quarterly 1994-#49 (24)
* Davis,J. Mafia Kingfish. 1989 (409)
* Drosnin,M. Citizen Hughes. 1985 (313)
* Dye,T. Who's Running America? 1983 (74, 76, 90, 98-9)
* Fensterwald,B. Coincidence or Conspiracy? 1977 (531)
* Fitzgerald,A.E. The Pentagonists. 1989 (23, 69, 75)
* Fitzgerald,F. Way Out There in the Blue. 2000 (131, 147, 149-50, 167-75, 177-8)
* Follett,K. On Wings of Eagles. 1984 (54)
* Friedman,A. Spider's Web. 1993 (4-7, 26, 64-5, 281-2)
* Galiullin,R. The CIA in Asia. 1988 (55)
* Gibson,J. The Perfect War: Technowar in Vietnam. 1986 (407-9)
* Gill,S. American Hegemony and the Trilateral Commission. 1991 (168, 193)
* Groden,R. Livingstone,H. High Treason. 1990 (316-7)
* Gurwin,L. The Calvi Affair. 1984 (190-1)
* Harris,R. Paxman,J. A Higher Form of Killing. 1982 (254, 257-8)
* Hartung,W. And Weapons for All. 1994 (85-6, 95-6, 101, 193)
* Havill,A. Deep Truth. 1993 (54-6, 82-3, 114-5, 119, 156, 182-3, 186-7, 215-6, 219)
* Herman,E. Brodhead,F. Rise and Fall of Bulgarian Connection. 1986 (94, 238)
* Herman,E. O'Sullivan,G. The Terrorism Industry. 1989 (181)
* Hersh,S. The Dark Side of Camelot. 1997 (373)
* Hersh,S. The Price of Power. 1983 (55-60, 89, 641)
* Hertsgaard,M. On Bended Knee. 1988 (109, 112-5, 277)
* Hinckle,W. Turner,W. The Fish is Red. 1981 (306, 342)
* Hitchens,C. The Trial of Henry Kissinger. 2001 (36-7, 61)
* Honegger,B. October Surprise. 1989 (27, 81, 123-4, 139, 159, 163, 179-80, 204, 227, 231-3)
* Hougan,J. Secret Agenda. 1984 (286-90, 312)
* In These Times 1982-09-08
* In These Times 1987-07-07 (13)
* Jaworski,L. The Right and the Power. 1977 (2-8, 160, 260-2)
* Jensen-Stevenson,M. Stevenson,W. Kiss the Boys Goodbye. 1990 (157)
* Johnson,R.W. Shootdown. 1987 (106-8)
* Kilian,M. Sawislak,A. Who Runs Washington? 1982 (72-3, 127-8)
* Lernoux,P. In Banks We Trust. 1984 (217)
* Lernoux,P. People of God. 1989 (201, 298)
* Levins,H. Arab Reach. 1983 (24-6, 29-30, 188)
* Livingstone,N. The Cult of Counterterrorism. 1990 (173, 229-30)
* Loftus,J. Aarons,M. The Secret War Against the Jews. 1994 (315-8, 430-2)
* Mackenzie,A. Secrets: The CIA's War at Home. 1997 (92)
* Marrs,J. Crossfire. 1990 (273)
* Marshall,J... The Iran-Contra Connection. 1987 (59, 92, 94, 172, 211-2, 216)
* Martin,L. Pledge of Allegiance. 1993 (39)
* McCartney,L. Friends in High Places. 1988 (221)
* McClintock,M. Instruments of Statecraft. 1992 (331-2, 435)
* Miller,J. Engelberg,S. Broad,W. Germs. 2002 (78)
* Morris,R. Partners in Power. 1996 (345-6)
* Mother Jones 1983-07 (22)
* Myerson,M. Watergate: Crime in the Suites. 1973 (132)
* NACLA. Report on the Americas 1982-02 (11-2)
* Nair,K. Devil and His Dart. 1986 (63, 69)
* NameBase NewsLine 1995-01 (2)
* Nation 1998-12-07 (28)
* National Reporter 1986-W (57)
* New York Magazine 1976-08-16 (35)
* New York Times Magazine 1987-02-22 (22, 24)
* New York Times 1991-12-08 (1, 16)
* Parapolitics (Paris) 1982-07 (1)
* Parapolitics (Paris) 1983-02 (3)
* Parapolitics/USA 1982-03-31 (32)
* Parapolitics/USA 1983-03-01 (34-5)
* Parry,R. Fooling America. 1992 (83)
* Parry,R. Trick or Treason. 1993 (163-9, 317)
* Pell,E. The Big Chill. 1984 (90)
* Penthouse 1981-06 (53-6)
* Perloff,J. The Shadows of Power. 1988 (169)
* Perry,M. Eclipse. 1992 (47, 379)
* Perry,M. Four Stars. 1989 (219-20, 224, 294, 328)
* Persico,J. Casey. 1991 (220, 229, 305-6)
* Playboy 1988-10 (154)
* Prados,J. Keepers of the Keys. 1991 (279-81, 339-40, 450-3)
* Progressive 1997-05 (21)
* Progressive 1998-10 (36)
* Rampton,S. Stauber,J. Weapons of Mass Deception. 2003 (57)
* Ramsay,R. Conspiracy Theories. 2000 (71)
* Raviv,D. Melman,Y. Friends in Deed. 1994 (197-8, 202-3, 214, 216-20)
* Resource Center. GroupWatch 1991-SMOM (1)
* Sale,K. Power Shift. 1976 (293, 299)
* Scheim,D. Contract on America. 1988 (324)
* Scott,P.D. Deep Politics. 1993 (305-6)
* Seagrave,S.& P. Gold Warriors. 2003 (137-9)
* Sergeyev,F. Chile: CIA Big Business. 1981 (109)
* Shawcross,W. Sideshow. 1979 (15, 100-1, 162-3)
* Sick,G. October Surprise. 1991 (27, 197-201)
* Silverstein,K. Washington on $10 Million a Day. 1998 (182)
* Sklar,H. Washington's War on Nicaragua. 1988 (65, 69-73, 95, 103, 240)
* Smith,H. The Power Game. 1989 (304-7, 347-8)
* Spotlight Newspaper 1997-04-14 (10-1)
* Sullivan,W. The Bureau. 1982 (219-20)
* Summers,A. The Arrogance of Power. 2000 (103, 343, 391, 460-2, 473-5, 481-2)
* Syrokomsky,V. International Terrorism and the CIA. 1983 (8 )
* Taheri,A. Nest of Spies. 1988 (145, 159)
* Tarpley,W.G. Chaitkin,A. George Bush. 1992 (365-9, 374)
* Tosches,N. Power on Earth. 1986 (242)
* Trento,J. Prelude to Terror. 2005 (217)
* Unger,C. House of Bush, House of Saud. 2004 (63)
* Vankin,J. Conspiracies, Cover-ups, and Crimes. 1991 (175, 256)
* Vankin,J. Whalen,J. The 60 Greatest Conspiracies. 1998 (154-5)
* Vistica,G. Fall From Glory. 1997 (150)
* Washington Post 1984-05-18 (A2)
* Washington Post 1984-12-27 (A25)
* Washington Post 1986-02-21 (C20)
* Washington Post 1987-08-30 (A12)
* Washington Times 1990-04-19 (A12)
* Washington Times 1991-05-21 (A1, 9)
* Washington Times 1992-05-29 (F4)
* Weinberg,S. Armand Hammer: The Untold Story. 1989 (261)
* Wise,D. The American Police State. 1978 (33, 41-4, 47-9, 93)
* Woodward,B. Veil. 1987 (18, 92-3, 116-7, 172-3)
* Yakovlev,N. Washington Silhouettes. 1985 (280)
* Yallop,D. Tracking the Jackal. 1993 (563-4)

pages cited this search: 387
http://www.namebase.org/cgi-bin/nb01?_HAIG_ALEXANDER_M%20JR