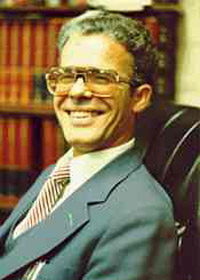 From Grand Lodge of British Columbia and Yukon:
"........

September 19, 1935 (?) - June 20, 1997 "Father" Rivera wrote, and inspired, a number of comic books for Jack T. Chick publications in the 1970s and 1980s. A tireless lecturer against what he perceived to be the evils of Roman Catholicism, he also attacked Freemasonry as being satanic and anti-christian. "Rivera's claim to be a former priest, bishop, and intelligence agent for the Roman Catholic hierarchy [is] a complete falsehood."1Christianity Today The Christian Research Institute, founded by the late Dr. Walter Martin, and , founded by Billy Graham, have demonstrated that Rivera was never a priest and has never offered any proof for his allegations ......
1. "The Alberto Story," Gary Metz. Cornerstone, vol. 9, no. 53, 1981, pp. 29-31. Cornerstone Magazine, 939 W. Wilson, Chicago IL 60640, USA. See Christianity Today, March 13, 1981 ; "Alberto Rivera Ñ Is He For Real?", The Quarterly Journal Vol 2, No 2, Personal Freedom Outreach, P.O. Box 26062, Saint Louis, MO 63136-0062. catholic.com members.tripod.com/monsterwax/morelinks.html ic.net pfo.org religioustolerance.org
........"


URL: http://freemasonry.bcy.ca/anti-masonry/rivera_a.html
[

for the above three images: see References below]
How much do you bet that among the greatest defenders of the 'veracity' of the Vatican Archives and documents there are the (free or not) masons?
Notice on how the news, published with the article of Il Piccolo di Trieste, with the commitment of Polidori (my former school-mate at the sixth, seventh and eight class - or in at least one of them, my memory can fail) who was reported some months ago to the judicial authorities for having broken the international law against racial discrimination with his statement that "Monti government, former Goldman Sachs man, and the NWO are a Jewish-Masonic system", appeared ten days after I presented in my Apparently enemies... blog the German booklet printed in 1909 (third edition) in Berlin, which contains a list of more than 500 priests of Rome, high cardinals and Jesuits etc. members of the (Free or not) Masonry:
Wednesday,

September 12, 2012
"Die katholische Geistlichkeit und die Freimaurerei" [the book]
[Notice: the old album of photos on line "Trieste with the pope" where I had the above image (without the explanations you see), an image of the above entrance door of the historical Jesuit church of Trieste, was erased by me in a moment of depression. Soon or later I will rebuild the album again, stay sure]
Saturday, September 22, 2012
Introduce International Canonic Sharia also in Trieste?