Yes, it seems that they fooled also me. Read this one:
".........

Merkel backs Draghi, urges rapid move to closer union

....

(Reuters) - German Chancellor Angela Merkel voiced support for ECB President Mario Draghi's crisis-fighting strategy on Thursday and pressed her European partners to move swiftly towards a closer integration of fiscal policies, saying time was running short.

........" etc. etc.
Well, not a great effort of the mind to understand as the "Latin block" (a term I didn't create), headed by Mario Draghi (a clarification I never did) is just that threat to North Europe, the protestant oriented Europe to be submitted to the pope's temporal power creating a serious economical and financial crisis with which to fire the Roman Catholic masses of the "Latin block" and to use them like terrorists use the bombs around their bodies when taking hostages and dictating their conditions:
Do what the Jesuit order impose to you or we'll make explode the "Latin block". In this case we have the "anti-imperialist global front on our side": China, Russia, Tehran, Chavez, South America, etc..
Not a great effort of mind to understand this. And also to understand what happened two days after. Not a coincidence but a perfect timing to devour Germany and metabolize it in the theological intestine of Rome:
"......Germany's top court relaxes rules for domestic military operations


Read more: http://www.timescolonist.com/news/Germanys+court+relaxes+rules+domestic+military+operations/7105288/story.html#ixzz23tRAQNmX


....

BERLIN - The German government can call upon the army to use force inside the country, but only in exceptional cases and as a last resort, Germany's top court said Friday.

The Federal constitutional Court's decision relaxes the rules for domestic military operations, which have been tightly controlled because of Germany's history of militarism.

..." etc. etc. continue for yourself.



Well, what does it mean? But it simply means that the first boot of Carabineers and Gendarmerie (= "EUROGENDFOR") is shyly setting foot on the German soil. Thanks the "Zionist" threat of the "false flag" terrorism? This is why they need of a Jesuit puppet, Francis I order member Assad under the siege of "Zionism"? to export such 'threats' in Europe and to build the deep European integration as reaction against it? Do you remember what happened in France this Spring?
Meanwhile the rest of the great Roman Catholic majority of Europe is stirred up with hate against Germany. Two directions fire? Give another look to this my post if you have problems of memory:
Well, Germans, I warned you. You have just been fooled one time by the Jesuits and the Vatican. You know how it ended: Do you like very much to repeat history?
Very interesting another coincidence with the German's top court decision of today. That they are only ten days to the 24th anniversary of the Ramstein air show disaster [and in
2014
the
26th anniversary
. Who was the
26th general superior
of the 'honored' society?...] Remember those
MB339
training planes which killed at the guise of Inquisitorial ritual (chopping and burning) some Germans at the airshow: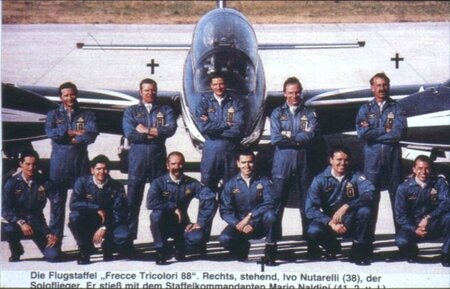 #1
#2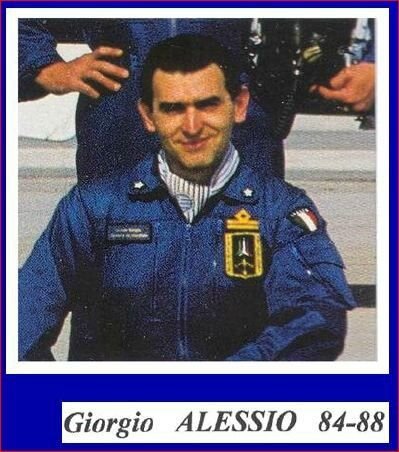 #3
#4
Above three images (they may not correspond. Still subject to military censorship therefore you don't find easily the images of Naldini, Nutarelli and Alessio, the three Italian pilots among the victims of the Ramstein airshow disaster):
1) "Les Frecce Tricolori de 1988. Les croix noires désignent les pilotes morts dans l'accident de Ramstein. (Sibille Jatzko). "
2) "Colonel Mario Naldini n°1."
3) "Capitaine Giorgio Alessio n°2."

4) " Colonel Ivo Nutarelli n°3."
Naldini and Nutarelli were technical witnesses of the Ustica massacre of 27th June 1980 (TF104G crew from Grosseto).

If some of those above four pics is lacking, see them in the source-page at URL: http://lelignard.canalblog.com/archives/aviation/index.html
Above video - remember that all the three Italian army forces (Ground army, Navy and

Air Force

) ever had

only one

military police, which is also a civil police, the

Carabineers army

, since 5th Oct. 2000 [decision of

center-left

government of

Giuliano Amato

- look at

References

] an independent (and the most powerful) army. Remember that the air force involved in the Ramstein airshow disaster was the

Italian Air Force

- "

Ramstein crash

" - URL:

http://youtu.be/zUlLawlfbng
No memory of that event? Click on the label
Massacre of Ramstein
or directly to the first of the posts:
Friday, August 28, 2009
28th AUGUST, a day as many others.......
[Just a question: this was a casual natural accident just only because no one detected 'lateral explosions'? At the opposite: if they would, could they be able to hide any kind of 'lateral explosion' in any kind of accident/attempt? This night in bed before to sleep reflect on such question. Good-night].
OK, where do they fool me? But it's a question of terminology.


Yesterday I was driving on the melancholic Karst plateau when I was listening the first national channel of public company Radio Slovenia (the one where the Romish church controls the line with black lists of persona no grata to expel from talk shows or cultural programs - see References). In a cultural talk show I heard an expert talking on the causes of disgregation of Yugoslavia: "too much religious differencies". Tito was the "last of Hapsburgs" and therefore not modern one. Well. The same 'experts' of course are proved partisan of the European community. Partisan a new European wide 'Yugoslavia', meanwhile at the same time they agreed that the old one was impossible to keep united. Who will be the future Serbs? And the future Ustasha of the New Euro-Slavia? If the possible the errors of the past must be reapeate at continental scale because in the past their were very efficient in to erase 'heretics'. Therefore no "Großdeutsche" but it is more plausible a "Yugoslav Lösung" for Europe.
-------------------------------REFERENCES:
Sunday, January 15, 2012
RTVSLO is a tool of Rome!
Tuesday, September 09, 2008




GIULIANO AMATO ADMITS THAT THE INSPIRING THOUGHT BEHIND THE LISBON TREATY IS THE TAKING BACK EUROPE INTO THE MIDDLE AGE
http://avlesbeluskesexposed.blogspot.it/2008/09/giuliano-amato-admits-that-inspiring.html
".....

The

Amato II Cabinet

was the 56th cabinet of the Italian Republic, the fourth and last cabinet of the XIII Legislature. It held office from 25 April 2000 to 11 June 2001, a total of 412 days, or 1 year, 1 month and 17 days.

..........."


URL: http://en.wikipedia.org/wiki/Amato_II_Cabinet



".......

The

Carabinieri,

with the

Legislative Decree of 5

October 2000, no

. 297 [1],

has been elevated to

"

rank of

armed force

within the Ministry of

Defence,

depending on the

commanding general

of the

Chief of Staff

of Defense.

Due to its

peculiar

connotation of

force

military police

and

general jurisdiction,

it is responsible

for the following tasks

[8]:

......."


URL: http://it.wikipedia.org/wiki/Arma_dei_Carabinieri#Compiti_istituzionali
Friday, August 19, 2011
Vergarolla after 65 years - resume from AGKH blog